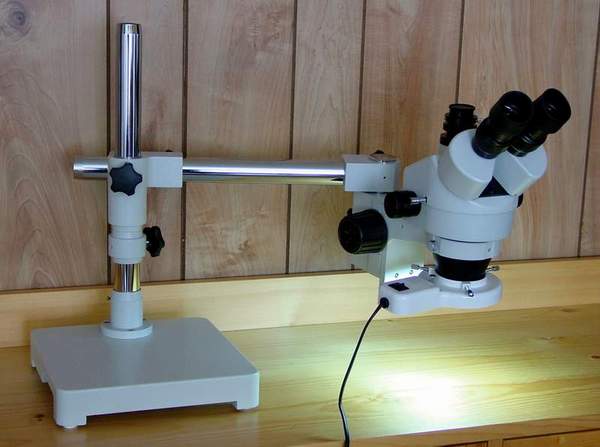 SZM7045TR Trinocular Microscope with Single Bar Boom Stand
List Price: $1,650.00
Sale Price: $525.00


High quality stereo trinocular microscope with Boom Stand. Great for working on PCB boards with fine pitch IC's and other applications.
l Crystal sharp pictures. A necessary tool for SMT/SMD circuit boards inspection and other applications.
l Continuous zoom from 7X to 45X. Optional object lenses of 0.5X and 2X available.
l Adjustable rubber eye guards.
l Video/camera trinocular port. Video and photo adapters optional. Matching high resolution color CCD video camera available.
l Boom stand included for maximum versatility and extended working area. Great for working with large circuit boards.
l Fluorescent ring light is included. Even and bright illumination onto the working area.
l Heavy-duty quality metal construction with both of the microscope body and boom stand.
l Easy focusing and zooming control knobs on both sides of the microscope.
l One-year warranty.